BTS & IIIM Partnership
Birmingham Theological Seminary (BTS), in partnership with Reformed Sermons, is now offering an online Certificate in Christian Ministry. Este programa de certificación también está disponible en español.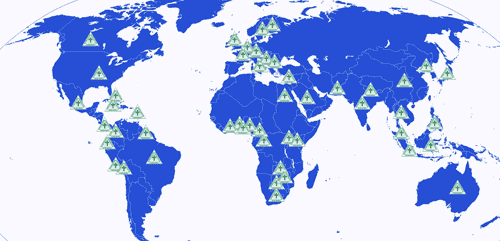 Countries where current BTS Certificate students live.
About this Certificate Program
This program is intended to equip pastors and other church leaders for ministry. All courses are based on Reformed Sermons' multimedia seminary curriculum, and are supplemented by readings provided by BTS. Courses are available through btsfreeccm.org.
All Certificates are awarded by BTS. Reformed Sermons is not an educational institution and does not award academic credits or degrees.
Completely Free to Students
The Certificate in Christian Ministry is completely free to students. The website and all online resources are free to access and use. Likewise, BTS does not charge tuition to students enrolled in this program.
Who Can Apply?
Non-U.S. residents may take courses for academic credit and will, upon satisfactory completion of all required courses, earn a Certificate in Christian Ministry from BTS. The specific requirements for each course are set forth in the syllabus for that course. Academic credits earned in this Certificate in Christian Ministry program may not be transferred to or applied to any other certificate or degree offered by BTS.
U.S. residents (regardless of citizenship or immigration status) may not take these courses for academic credit at BTS or earn the BTS Certificate in Christian Ministry. However, U.S. residents may and are encouraged to view the courses, download the readings and take the quizzes and exams for their own edification. U.S. residents must apply to the program in order to gain access to these resources. (Alternatively, U.S residents may want to consider the free Certificate in Biblical and Theological Studies offered by Seminario Teológico Presbiteriano San Pablo in Mexico.)
Apply to this Certificate in Christian Ministry Program here.
Additional Information
Please see the Certificate in Christian Ministry website for answers to frequently asked questions, terms and conditions, the student handbook, and additional information.